40 AC COWBOY LAND NEVADA, CASH OR $200 DOWN $180/MO. RD, LEGAL ACCESS, NEAR MTNS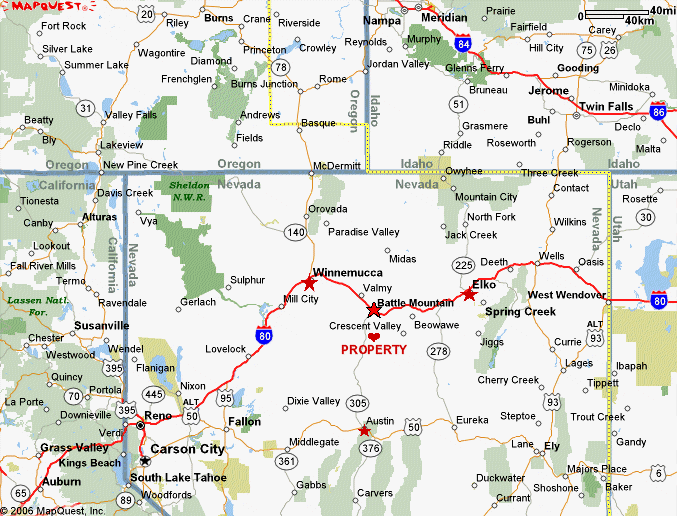 Category Real Estate Land
Current price $19,900.00
Listing type Fixed Price Item
Location Battle Mountain, Nevada 898** US
Quantity sold 1
Quantity available 1
Bids 0
Seller greaterland (331)
Seller rating 100% positive feedback
Property Address GOAT PEAK DRIVE
State/Province Nevada
Seller State Of Residence USA
Zip/Postal Code 89820
Zoning Mixed
Acreage 40
Type Residential, Recreational Acreage
IMPORTANT NOTE
PLEASE READ THE ENTIRE LISTING, PERFORM ALL DUE DILIGENCE AND ASK ALL YOUR QUESTIONS
IF YOU HAVE LESS THAN 6 FEEDBACK, PLEASE CONTACT US BEFORE YOU USE THE BUY IT NOW, THANK YOU VERY MUCH FOR YOUR UNDERSTANDING, SORRY FOR THE INCONVENIENCE IF ANY
PRIME 40.65 ACRES WITH LEGAL ROAD ACCESS TO THE PROPERTY, GREAT LOCATION IN LANDER COUNTY NEAR MOUNTAINS AND HILLS, RESIDENTIAL, RECREATIONAL LAND, SURVEYED AND STAKED, LEGAL SUBDIVISION, NO HOA, ONLY 9 MINUTES TO HWY 305, A TOTAL OF 30 MINUTES TO TOWN OF BATTLE MOUNTAIN
WE OFFER DISCOUNT ON CASH ONLY! OR SELLER'S FINANCING WITH $200 DOWN PAYMENT TOWARDS THE PURCHASE PRICE OF $19,900. WE WILL FINANCE FOR 15 YEARS AT 7.3% APR $180.39 PER MONTH, FOR 10 YEARS AT 6.9% APR $227.72 PER MONTH, FOR 7 YEARS AT 6.5% APR $292.53 PER MONTH AND FOR 5 YEARS AT 6.1% APR $381.77 PER MONTH BASE IN $200 DOWN PAYMENT, THE MONTHLY PAYMENT WILL BE LOWER WITH A HIGHER DOWN PAYMENT, SEE TERMS FOR FULL DETAILS. EVERY ONE QUALIFY, NO CREDIT CHECKS, NO HASSLES
PICTURE IS ZOOMED IN, MOUNTAIN IS ABOUT 1 MILE AWAY
ENJOY THE NATURE, MOUNTAINS AND VALLEY PANORAMA, SPECTACULAR SUNSETS, CLEAN AIR, PEACE AND QUIET, WIDE OPEN SPACES, BLUE SKIES, 360° MOUNTAIN VIEWS
PROPERTY INFORMATION
~ LEGAL DESCRIPTION
T29N, R44E, LOT 3, SECTION 23
~ STATE
NEVADA
~ TOWN
MILL CREEK AREA, SOUTH OF BATTLE MOUNTAIN
~ COUNTY
LANDER
~ LOCATION
GOAT PEAK DRIVE, MILL CREEK AREA
~ SIZE
40.65 ACRES
~ SURVEY
SURVEYED AND STAKED
~ ZONING
A3, AGRICULTURAL, RESIDENTIAL ACREAGE
~ ACCESS
From Hwy 305, 3 miles (6 minutes drive) on Mill Creek county
maintained gravel road and then 3 minutes drive, a .79 of a mile
legal dirt road access to the south property line
~ TITLE
FREE AND CLEAR OF ANY LIEN
~ TERRAIN
GENERALLY FLAT WITH VERY GENTLY ROLLING HILLS
~ VEGETATION
COVERED WITH GRASSES, BRUSHES AND WILD FLOWERS
~ ELEVATION
APPROXIMATELY 5,028 - 5,140 FT
~ PICTURES
ARE ZOOMED IN, TAKEN FROM THE PROPERTY
~ POWER
BY GENERATOR, SOLAR, WIND, TO BE DONE BY THE BUYER
~ WATER
By well, to be done by the buyer
~ DOCUMENTATION FEE
FOR FINANCING $150 FOR DOCUMENT PREPARATION AND $200 DOWN
PAYMENT, A CONTRACT FOR DEED WILL BE USED
FOR CASH SALE $299 FOR DOCUMENT PREPARATION DONE BY THE SELLER
AND RECORDING FEE
~ PRICE
$19,900 cash sale or financing
~ PROPERTY TAXES
ABOUT $170
~ GPS COORDINATES
NW 40.377621 -116.994363
NE 40.377572 -116.989510
SW 40.373992 -116.993904
SE 40.373934 -116.989176
~ HOA
NO
Mill Creek Road (County Road)
TERMS
THE PROPERTY IS SOLD ON "AS IS" CONDITION. THE SALE IS FINAL. ALL INFORMATION INCLUDED IN THIS LISTING HAS COME FROM RELIABLE SOURCES AND IS ACCURATE TO THE BEST OF OUR KNOWLEDGE BUT NOT GUARANTEED, WE DO NOT HAVE MORE INFORMATION, OTHER THAN DESCRIBED. SELLER DOES NOT MAKE ANY WARRANTIES EXPRESSED OR IMPLIED, NOR ASSUMES ANY LIABILITY WHATSOEVER TO INCLUDE WITHOUT LIMITATION, SOIL CONDITIONS, DRAINAGE, BUILD ABILITY OR ACCESSIBILITY REGARDING THIS PROPERTY. WE DO GUARANTEE FREE AND CLEAR TITLE WITH NO LIENS. TAXES ARE CURRENTLY PAID.
YOU ARE REQUIRED TO READ THE ENTIRE LISTING, TO PERFORM ALL DUE DILIGENCE AND TO ASK ALL QUESTIONS. BY USING THE BUY IT NOW OR SENDING YOUR BEST OFFER, YOU ACKNOWLEDGE AND AGREE THAT YOU HAVE DONE ALL YOUR DUE DILIGENCE ON THE PROPERTY.
WE OFFER DISCOUNT ON CASH SALE ONLY! FINANCED, $200 DOWN PAYMENT WILL BE SUBTRACTED FROM THE SALES PRICE OF $19,900. THE BALANCE WILL BE FINANCED BY THE SELLER, TO BE PAID IN 15, 10, 7, OR 5 YEARS ON A FULLY AMORTIZED LOAN. WE WILL FINANCE FOR 15 YEARS AT 7.3% APR $180.39 PER MONTH, FOR 10 YEARS AT 6.9% APR $227.72 PER MONTH, FOR 7 YEARS AT 6.5% APR $292.53 PER MONTH AND FOR 5 YEARS AT 6.1% APR $381.77 PER MONTH BASE IN $200.00 DOWN PAYMENT, THE MONTHLY PAYMENT WILL BE LOWER WITH A HIGHER DOWN PAYMENT. THERE ARE NO PREPAYMENT PENALTIES, YOU CAN MAKE HIGHER MONTHLY PAYMENTS OR PAY OFF THE LOAN EARLIER. FINANCING, BUYER WILL PAY $150 DOCUMENT PREPARATION FEE. EVERY ONE QUALIFY, NO CREDIT CHECKS, NO HASSLES.
BUYER PLEASE ESTABLISH CONTACT WITH THE SELLER RIGHT AFTER USING THE BUY IT NOW AND PROVIDE THE NAME IN WHICH THE AGREEMENT WILL BE ON, ADDRESS, EMAIL ADDRESS, TELEPHONE NUMBER, AND FOR HOW MANY YEARS YOU WANT THE FINANCING. DOWN PAYMENT AND DOCUMENT PREPARATION FEE EXPECTED WITHIN 3 DAYS TO BE DONE BY PAY PAL OR ZELLE.
CASH SALE BUYER WILL PAY $299 FOR DOCUMENT PREPARATION FEE DONE BY THE SELLER AND RECORDING FEE FULL PAYMENT TO BE RECEIVED WITHIN 4 DAYS BY CASHIER'S CHECK.
FROM COUNTY ROAD IS 2-3 MINUTE SHORT DRIVE ON LEGAL DIRT ROAD TO PROPERTY
PROPERTY DESCRIPTION
PRIME AND GREAT 40.65 ACRE LAND, PERFECTLY SITUATED IN THE MILL CREEK AREA, LANDER COUNTY, NORTH CENTRAL NEVADA, WITH DIRT ROAD FRONTAGE AND RECORDED, YEAR AROUND ACCESS, LOCATED IN A LEGAL SUBDIVISION WITH NO HOA. IT IS ABOUT .79 OF A MILE, 3 MINUTES SHORT DRIVE TO MILL CREEK COUNTY ROAD (A MAINTAINED GRAVEL ROAD) AND ANOTHER 6 MINUTES TO HWY 305.
THE TOWN OF BATTLE MOUNTAIN IS APPROXIMATELY 22 MILES NORTH OF THE PROPERTY, 30 MINUTES DRIVE, WHERE YOU CAN FIND EVERYTHING YOU MAY DESIRE FOR YOUR YEAR AROUND LIVING.
THE PROPERTY ELEVATION VARIES FROM 5,028 TO 5,140 FEET, THE LAND IS GENERALLY FLAT WITH GENTLE HILLS. THIS IS AN OPEN RANGE LAND LOCATED VERY CLOSE WALKING DISTANCE TO THE MOUNTAINS WITH AWESOME SURROUNDINGS, COVERED WITH GRASSES, BRUSHES AND WILD FLOWERS. YOU CAN BUILD YOUR HOUSE, YOUR RANCHETTE OR HAVE A MOBILE HOME. BUYER WOULD HAVE TO PROVIDE POWER BY GENERATOR, SOLAR OR WIND AND WATER BY WELL. THE PARCEL HAVE BEEN SURVEYED IN 2010 AND THE CORNERS WERE STAKED, THE LOT BORDERS WITH BLM LAND TO THE NORTH. THERE IS A DIRT ROAD THAT GOES TO THE SOUTH PROPERTY LINE, PLEASE SEE THE PLAT MAP, WE HAVE MARKED IN RED.
THERE ARE GORGEOUS VIEWS OF THE SURROUNDING AREA, AS YOU CAN SEE IN THE PICTURES, TO THE NORTH AND WEST THE REESE RIVER VALLEY, TO THE SOUTH AND WEST THE SHONE RANGE WITH THE GREAT, JACKS AND HARRY CANYONS. THIS PROPERTY HAS 360 DEGREES MOUNTAIN VIEWS, FROM 0 TO 60 MILES YOU FIND SEVERAL SCENIC BY-WAYS TO NATIONAL PARKS, STATE PARKS, SPRINGS, LAKES, RIVERS AND CREEKS. NORTH NEVADA IS NOT JUST A GREAT PLACE TO VISIT, PLACE TO LIVE, FOR ACTIVE RETIREES AND VACATION HOMES.
ABOUT 1.5 MILE SOUTH OF THE PROPERTY ALONG THE MILL CREEK ROAD, STARTS A BEAUTIFUL AREA, WITH THE MILL CREEK ON THE RIGHT SIDE OF THE ROAD, IT IS A WOODED AREA WITH MIXED TREES, CANYONS, MOUNTAINS, AND HILLS. SCENIC AND PEACEFUL AREA FOR HIKING, WATCHING ANIMALS, IMMIGRATED BIRDS. FISH IN MILL CREEK FOR RAINBOW AND BROOK TROUT, HAVE A PICNIC OR BBQ. EVERYONE THAT LOVES NATURE WILL FEEL HERE AT HOME!
GREAT HUNTING IN DESIGNATED AREAS, THERE IS VARIETY OF WILDLIFE INCLUDING ANTELOPES, ELKS, DEER, CHUCKERS, QUAIL, RABBITS, HORNED OWL, BELTED KINGFISHER, VARIOUS SPECIES OF HAWKS, WOODPECKERS, SPARROWS, WRENS, SWALLOWS, PINYON JAYS, HUMMINGBIRDS, ETC.
THE DIFFERENCE BETWEEN THIS AREA AND THE MOST OTHER RURAL NEVADA REGIONS IS THE HIGH MOUNTAIN VALLEYS, TOWERING SNOW-COVERED PEAKS, WILDERNESSES, RICH HISTORY, MODERATE CLIMATE, PLENTIFUL WILDLIFE AND MORE.
PICTURE IS ZOOMED IN MOUNTAIN IS ABOUT 2 MILES AWAY
ACTIVITIES
ACTIVITIES IN THE AREA INCLUDE HUNTING, HIKING, CAMPING, WATCHING THE IMMIGRANT BIRDS IN THE MILL CREEK AREA, FISHING, PICNIC, BBQ, INDIAN RUIN EXPLORATION, VISITING GHOST TOWNS, OR JUST ENJOYING BEAUTIFUL MOUNTAIN VIEWS, SOME PEACE AND QUIET.
PICTURE IS ZOOMED IN, MOUNTAINS ARE FAR AWAY
APPROXIMATELY DISTANCES IN MILES
THE PROPERTY IS 3.7 MILES EAST FROM HWY 305, 22 MILES SOUTH FROM BATTLE MOUNTAIN, AUSTIN IS 68 MILES SOUTH, 69 MILES EAST IS THE SMALL TOWN OF CARLIN, ELKO 91 MILES TO THE EAST, WINNEMUCCA 74, RENO 239, SALT LAKE CITY, UT 320, BOISE, ID 384, BRIGHAM CITY, UT 371, POCATELLO, ID 378, EUGENE, OR 552, LAS VEGAS 738, LOS ANGELES, CA 738.
BATTLE MOUNTAIN
Battle Mountain population approximately 3,635 here you can find everything you may desire for your year around living. There is plenty of restaurants with American and international cuisine such as Mexican, Italian and others. There are clubs, casinos, many motels and hotels, mobile park, bank, super markets, pharmacy, gas stations, u-haul dealer, auto parts, hardware store, liquor store, furniture store, jewelry store, family dollar, clothing store, schools, a public library, visitor center, post office, churches, police and fire station and hospital.
This part of the state has beautiful weather, many days and months of sunshine for your recreational activities such as fishing, hunting, tennis courts, soccer and baseball fields, bowling, swimming pool, rodeo grounds, golf courses, horse riding, parks and much more to enjoy.
Battle Mountain is surrounded by thousands of acres of public land, including countless mountain ranges and the Humboldt and Reese Rivers, making wildlife viewing and scenic drives plentiful!
PROPERTY SURROUNDING AREA
THANK YOU FOR LOOKING!
Red hot!
This product has more than 868 hits from eBay users. This means it is a very popular and in-demand item.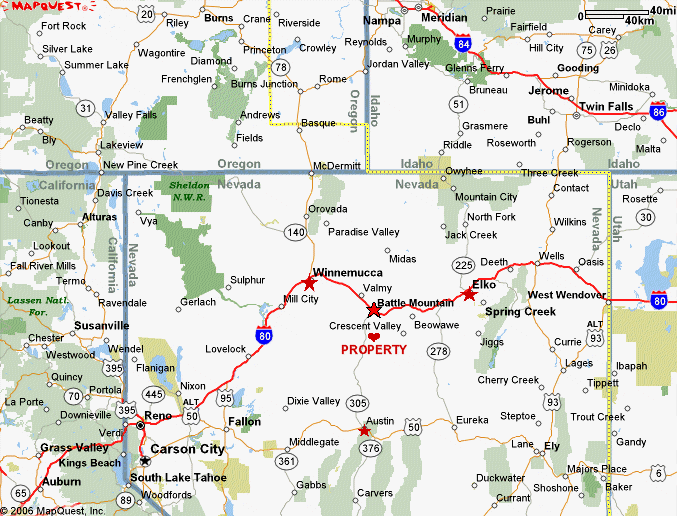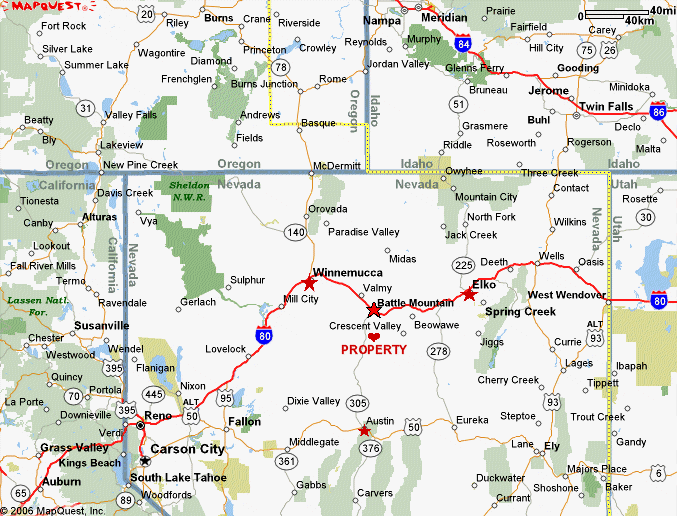 Also popular in the category Real Estate → Land