Stromberg Archtop Excellent - Montreaux Jazz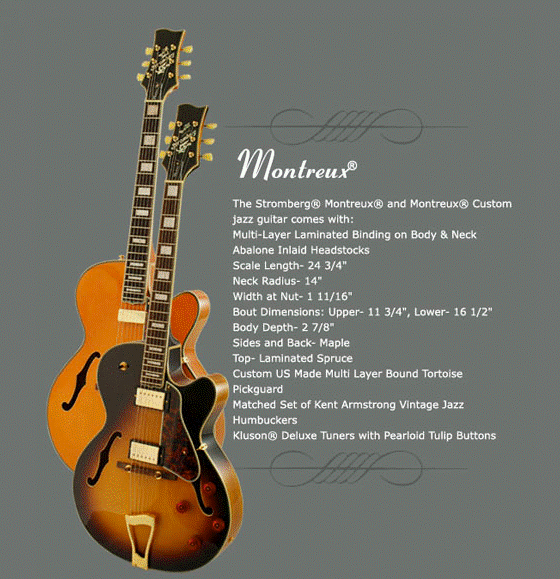 Category Musical Instruments & Gear Guitars & Basses Electric Guitars
Current price $699.00
Listing type Chinese
Location San Antonio, Texas 782** US
Quantity sold 0
Quantity available 1
Bids 0
Seller ussessta (483)
Seller rating 100% positive feedback
Body Color Clear Amber
String Configuration 6 String
Model Montreaux
Model Year Unknown
Series Montreaux
Type Electric Guitar
Fretboard Material Rosewood
Handedness Right-Handed
Body Material Spruce/Maple
Brand Stromberg
Set Includes Hard Case
Body Type Jazz
Stromberg Montreux hollow body in mint condition with hard case. Made in Korea? Great Jazz guitar for the price. Upgraded Schatten 500K T2 Discreet Volume/Tone - OEM Volume pot included. Recently set up with D'Addario 12 half rounds.
Featuring the finest materials, finish and premium components ...Kent Armstrong® Pickup, Kluson® Tuning Machines, Graph Tech®, TonePros®. Setup and finalized in the U.S.A. Normally I experiment with different pickups but really found no need to swap. KA PUP is excellent!
Case included - Excellent minus shape (only slightest of scuffs)
As is - All sales final - not responsible for errors - All Rights Reserved / Without Prejudice.
Con US Shipment Only.
Used, excellent condition with some pick marks on the pickguard and a few very minor marks on the finish. Hardware looks to free of any oxidation...really clean - testament to being in its case all these years. Low-low action, minimal fret-wear, the guitar appears to be from the late 2000's - unknown. Bought 10 years ago / sat in its case for years.
Condition
Mint (Used)
Brand
* Stromberg
Model
* Montreux Jazz
Finish
* Amber
Categories
* Hollow Body
Year
Unknown
Made In
* Korea, Republic of
From Stromberg-
Stromberg Montreux Custom With its single floating pickup, rosewood bridge, and flatwound strings (it can also be ordered with roundwounds) the Montreux Custom is indeed a full-fledged jazz guitar. A very nice one too when you inspect it closely and start groovin' on the multi-ply bindings that trim every perimeter surface of the entire instrument (including the pickguard), the split-block fretboard inlays, and the ornate "Stromberg" inlay on the headstock, which is also rendered in neatly inlaid pearl. Everywhere you look, from the tight neck joint to the careful shaping and slotting of the nut to the finely shaped frets, the attention to detail is remarkable.
Playability-wise the Montreux is very happening. The action on our review guitar is nice and low, the intonation tuneful, and the feel very solid despite the guitar's light weight. Having the fret ends terminating just inside the edge of the 'board also makes for an extra silky ride on the neck. The sonic vibe of this guitar is lively and open. There's abundant acoustic volume and the tone is sweet and juicy with good low-end tightness and clarity. Plugged into the Dr. Z EZG-50, the Montreux Custom delivered a round tone with a snappy midrange and just enough brightness to make notes punch though without sounding too zingy.
Trustworthy seller
100% of buyers gave this seller positive feedback.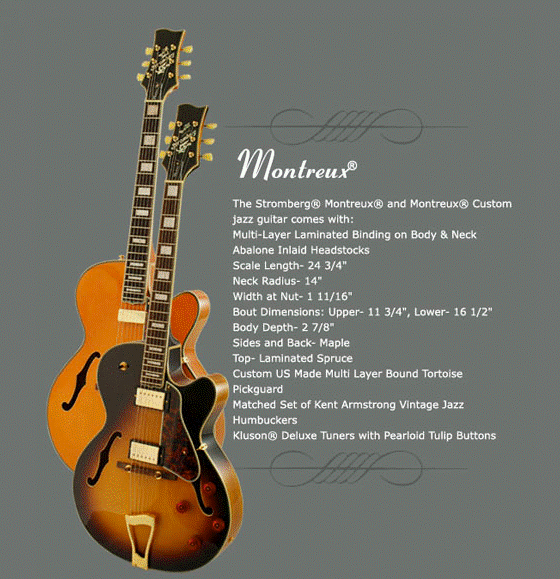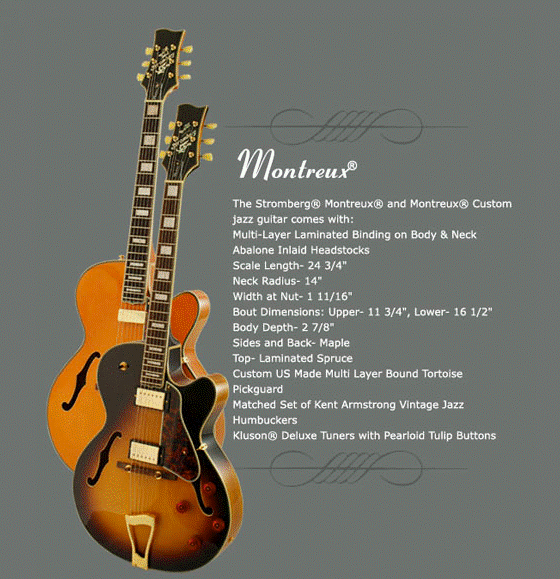 Also popular in the category Musical Instruments & Gear → Guitars & Basses → Electric Guitars